Wed Jan 31 21:00:43 2007
Surf Lifesaving
Weather: still noxious
I finally dragged my sorry carcass back out into the vile Melbourne weather and took my bike for a short, slow potter down to the mouth of the Yarra. It would have been a lovely April day in the UK - cold, force 6, mostly sunny. The UV index is enough to cook a steak in minutes, the wind swirls aroung attempting to blow you over and it's cold. Did we mention that the weather is vile?
On the beach at Port Melbourne, there were a couple of surf lifesaving teams maging the most of the waves to do some training. The sport involves launching the boat into the surf, then pulling hard through the breakers. it looks like bloody hard work.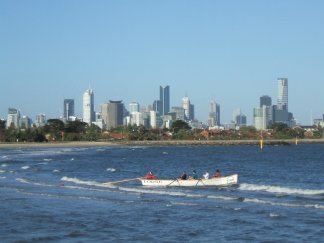 Pull harder!
Just off the beach is a navigation mark that was being used as the downwind mark for a yacht race. The 50-foot competitive ocean racers were rounding at the same time as the smaller boats. Carnage was narrowly avoided.
Hauling to weather
To finish, another fantastic sunset from our flat. We get these most days.
Gravitationaly Bound Thermonuclear Fusion System